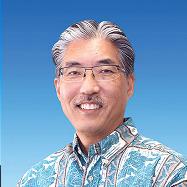 Rory Matsumoto
VP, Loan Officer
NMLS #493141
Keeping open lines of communication with my customers is an important part of my work ethic. I am thorough and responsive to my customers' needs, ensuring that they receive the best service and the best loan for their situations. I value the trust my customers place in me as I help them to maximize the value of their real estate investments through innovative mortgage loans and savings programs.
I joined Finance Factors as a Management Trainee in 1983. After serving in a number of positions including Branch Manager, I was appointed to my current position of Vice President, Business Development Manager.
Throughout my career at Finance Factors, I achieved Top Producer awards and received numerous accolades including Branch Manager of the Year while serving in that capacity at Finance Factors' Kapahulu Branch.
I am a graduate of the University of Hawaii at Manoa with a BBA degree in Accounting. I am involved in my community and serve the Castle Hills Community Association. In my spare time, I enjoy golfing.
I look forward to talking to you soon about your financial goals.
Oahu
Finance Factors Manoa Center
2955 East Manoa Rd, #A
Honolulu, HI 96822
Mon - Thu: 9:00am - 4:00pm
Fri: 9:00am - 5:00pm