November 19, 2021
Finance Factors Foundation's Seventh Annual Charity Golf Tournament Raises $20,000 to Fund State of Hawaii DOE Energy & Sustainability Programs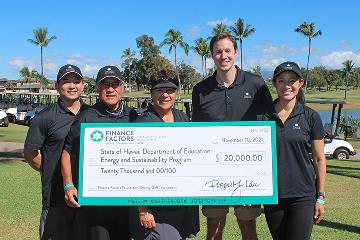 The Finance Factors Foundation announced that its Seventh Annual Charity Golf Tournament on November 10th generated $20,000 to benefit Hawaiʻi's schools. Money raised from the tournament will specifically fund energy and sustainability programs at select public elementary schools located near Finance Factors' branches.
The tournament kicked off with a shotgun start, followed by 18-holes of play at Hawaiʻi Prince Golf Club on ʻOahu. Sponsorship packages ranged from platinum to corporate with generous participation from the business community. More than 130 players participated. The tournament also included the uniquely named Da Burger Joint and The Anda-Dog snack stations.
"We are very grateful for the community's support and participation to help us expand real-world educational opportunities for Hawaiʻi's keiki," said Rob Nelson, president of Finance Factors. "We hope that through hands-on sustainability programs, the next generation can learn, understand, and help come up with solutions for issues that affect our home and environment. As a company, we remain committed to finding new ways of incorporating green practices as we serve our community with mortgage and financial solutions."
The Finance Factors Foundation, the charitable arm of The Finance Factors Family of Companies which includes Finance Factors, Finance Insurance and Waipono Investment Corporation, donates more than $100,000 annually to philanthropic causes within Hawaiʻi, specifically in the areas of education, sustainability, health and human services, community and civic affairs, and culture and the arts.
ABOUT FINANCE FACTORS
Finance Factors has been providing financial services in Hawaii for nearly 70 years. Started in 1952 by several island families, the company has grown from a small local enterprise that pioneered personal loans for Hawaii's people, into Hawaii's largest locally-owned depository financial services loan company. Finance Factors (NMLS #449916) specializes in residential loans for purchase, refinance, cash-out, and home equity, as well as commercial real estate loans. Finance Factors also offers some of the best rates on certificates of deposit and savings accounts, with deposits insured by the FDIC.