June 17, 2019
MA'O Organic Farms to Benefit from Finance Factors' Annual Charity Breakfast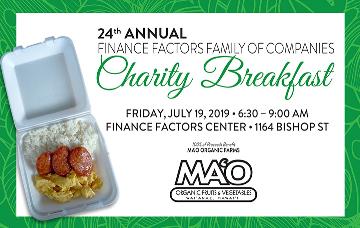 Join us on July 19 in Downtown Honolulu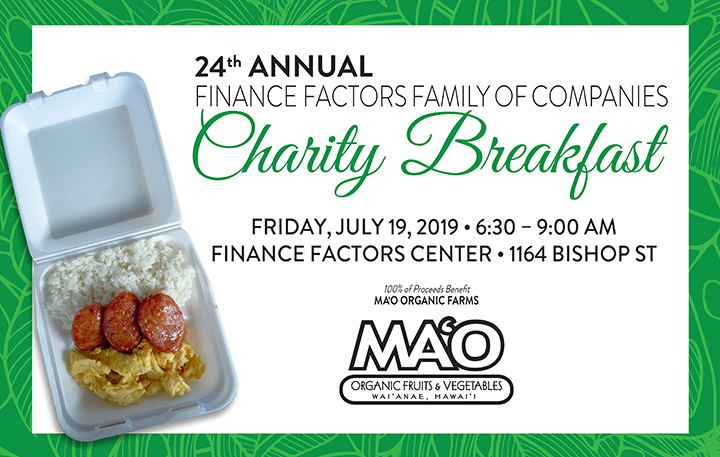 Finance Factors has selected MA'O Organic Farms as the charity for Finance Factors' 2019 Annual Charity Breakfast. The popular philanthropic event will be held for the 24th time on Friday, July 19, from 6:30 a.m. to 9 a.m. at the Finance Factors Center on Bishop Street in downtown Honolulu. More than 70 Finance Factors employees—including its President, Steven Teruya— will cook and serve traditional local style breakfasts.
MA'O Organic Farms will use the funds to enhance its programs, which provide jobs, internships, scholarships, and knowledge of Hawaiian cultural values and "clean" farming for Waianae residents—especially youth at risk. MA'O Organic Farms also sells and distributes its organic crops to Foodland, Whole Foods, Down To Earth, Kokua Market and other local cooperatives, stores, and restaurants—benefiting our community at large.
"We are happy to support MA'O Organic Farms and its programs, which help to keep Hawaii green while benefiting youth and the community," Finance Factors President Steven Teruya said.
Tickets sell out quickly so come early to purchase a $6 breakfast of Portuguese sausage, eggs, and rice.
Since the first Finance Factors Charity Breakfast in 1995, the event has served more than 24,000 breakfasts and raised more nearly $160,000 for more than a dozen local charities, including Kahauiki Village, the American Red Cross of Hawaii, Kupu, Waikiki Health Center, Abilities Unlimited, Lanakila Meals on Wheels, Aloha United Way, Kau Kau Wagon, Pacific Gateway Center and more.
About Finance Factors
Finance Factors has been providing financial services in Hawaii for more than 60 years. Started in 1952 by several island families, the company has grown from a small local enterprise that pioneered personal loans for Hawaii's working class, into Hawaii's largest locally-owned depository financial services loan company. Finance Factors (NMLS #449916) specializes in residential loans for purchase, refinance, cash-out, and home equity, as well as commercial real estate loans. Finance Factors also offers some of the best rates on certificates of deposit and savings accounts, with deposits insured by the FDIC.
About MA'O Organic Farms
MA'O, which stands for mala (garden) ʻai (food) ʻopio (youth), or youth food garden, was founded as a non-profit organization by Waianae native Kukui Maunakea-Forth and her New Zealand-born husband Gary Maunakea-Forth in 2001. MA'O was established in West Oahu, Hawaii, to recognize Hawaii's land and youth as its most important assets and to catalyze educational and entrepreneurial opportunities around these assets to address cultural, social, economic and environmental issues. MA'O strives to meet five critical areas of need: under privileged youth, sustainable economic development, organic agriculture, health & well-being, and Hawaiian culture. Training youth to be culturally rooted and communally relevant social entrepreneurs and leaders is the core objective.