January 21, 2021
Finance Factors Foundation Donates $4,000 To Hawaii Foodbank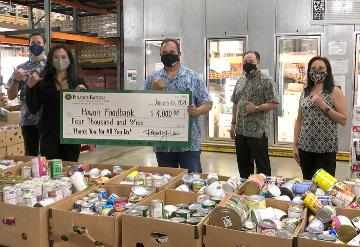 The Finance Factors Foundation, the charitable organization of the Finance Factors Family of Companies, recently donated $4,000 to the Hawaii Foodbank to support its mission of providing emergency food to members of our community impacted by the pandemic, as well as those already facing hunger every day.
"We're happy to support the Hawaii Foodbank whose passionate teams and volunteers distribute up to 3.5 million pounds of food per month during the COVID-19 pandemic," said Jen Lau, Executive Vice President of Finance Enterprises, parent company of Finance Factors, Finance Insurance and Waipono Investment Corporation.
"We're especially pleased to be giving back to the community which has supported us," Finance Factors Senior Executive Vice President Rob Nelson said. "We love supporting the communities where we live and serve; it's part of our mission statement."
In addition to this $4,000 donation, the Finance Factors Family of Companies collected nearly $6,000 in May 2020 during the Hawaii Bankers Association annual food drive. As an HBA member, Finance Factors and its sister companies have been an active participant in HBA's annual food drive since its 2007 inception. Because of the 2020 pandemic, the Family of Companies was unable to hold its usual food drive activities, however, it did manage to collect nearly $6,000 in monetary donations from employees, family, friends, and company employee gift matches.
According to the Hawaii Foodbank, every $10 donation provides 25 meals, which means the Finance Factors Foundation donation of $4,000 will provide 10,000 meals and the earlier employee donation of nearly $6,000 provided close to 15,000 meals.
About the Finance Factors Family of Companies: Finance Factors (NMLS #449916) has been providing financial services in Hawaii for over 68 years. Started in 1952 by several island families, the company has grown from a small local enterprise that pioneered personal loans for Hawaii's working class, into Hawaii's largest locally-owned depository financial services loan company. It specializes in residential loans for purchase, refinance, cash-out, and home equity, as well as commercial real estate loans. Finance Factors also offers some of the best rates on certificates of deposit and savings accounts, with deposits insured by the FDIC. Finance Insurance provides a full range of personal, commercial, professional and life/group insurance. Waipono Investment Corporation manages its own commercial properties and properties owned by Finance Factors.